Cable ties are plastic fasteners that are used to organize or bind items, generally electrical wires and cables. They are also commonly known as wire ties, hose ties or cable ties, etc. Due to their low cost and ease of use, you can find their application in almost every industry.
Pressfit manufactures Cables Ties that offer greater stability for use even in harsh conditions, making them ideal for outdoor applications. Pressfit's Nylon-6,6 Cable Ties are made using UL-approved Nylon-6,6 and are also available in a variety of colors and sizes to suit their ubiquitous applications.
Pressfit's sturdy and economical Cable Ties find uses in a huge range of industries like: Electrical and Hardware, Aviation, Telecommunications, Automobiles, Packaging, Home Improvement, and even Gardening!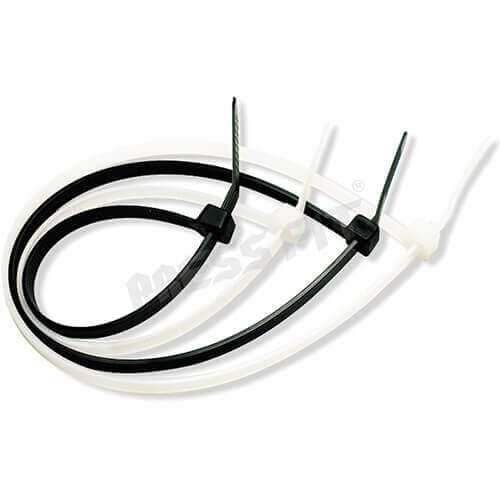 UL-Approved Nylon-6,6
Pressfit Cable Ties are made from Nylon-6,6 specially developed for cable ties. This infuses cable ties great flexibility without impairing their firm locking mechanism.
Ergonomic Design
Pressfit Cables Ties come with smooth, round edges and a curved tip. It gives the user a swift product usage and increases productivity.
---
Wide Range
To support various applications and uses, we offer cable ties in sizes ranging from 60mm to 710 mm, with a variety of different widths in each length.
Extra Locking Teeth
Pressfit's Cable Ties have more teeth per inch to boost the locking mechanism. It also enhances the ability to enclose a thin object to a better extent.
A cable tie is one of the most commonly used tools for cable management. It organizes and binds various wires and cables to give the whole cable setup a clean look. Custom PC builders and Control Panel manufacturers always keep a proper check of cable management as it can significantly impact device performance.
Cable Ties are chemically inactive, making them ideal for outdoor use. They can be used along with car wheel trims, luggage, bicycle, bikes, etc.
At airports, cable ties have been used exclusively as a security seal for checked baggage. By their very nature, they are used as seals to protect against tampering.
Specialty Cable Ties, with specifically-shaped heads meant for being fixed at a particular spot, are used intensively in the internal wiring of Automobiles and Aircraft.
Prevents tripping over the cables and damages associated with it. They can also be used to color-code different wire bundles to better organize the wiring.
UV-Protected Weather-Resistant Cable Ties are the go-to tool when it comes to fastening Solar Panels.
Design and Use
Structurally, a cable tie is a long piece of plastic with a lock on one end. It has bumps or teeth-like structures on one side of its surface for a better locking mechanism. To use it, you need to put the objects in the middle of the cable tie and pass the lower part of the tie through the head part until it allows.
This binds the enclosed objects and does not come off when pulled. You can cut off the extra part of plastic using a cutter for better aesthetics.