PVC Casing Capping is an essential electrical accessory used to enclose and protect unconcealed wiring. It is one of the oldest and simplest wiring systems all over the world which is still widely used. Colloquially, PVC Casing Capping is also known as Casing Patti, PVC Cable Ducting, Cable Trunking, Cable Channel, and Cable Raceway.
The product has a simple Press to Fit mechanism which enables quick installations as well as maintenance of the wiring. It helps to keep the wiring intact, affixed to the wall. As you can guess, our name Pressfit is also inspired by this mechanism as PVC Casing Capping was our very first product in 1989! Pressfit's PVC Casing Capping has been used in millions of households and offices till date and continues to be India's leading wire ducting solution. For concealed wiring application, check out Conduit Pipes.
Pressfit's PVC Casing Capping is approved under the
IS: 14927 Part 2 BIS standard.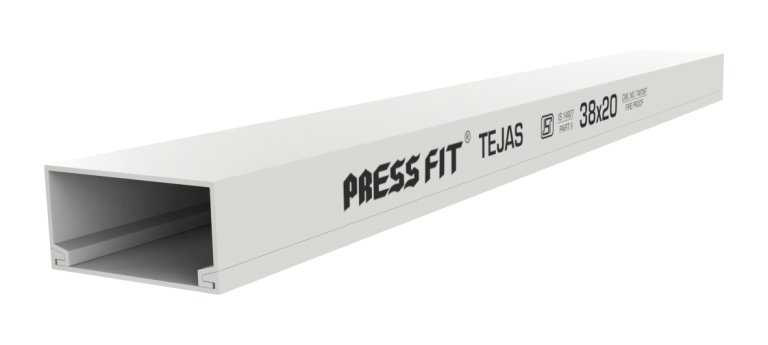 Secure and Firm Locking
Press-to-Fit mechanism ensures that your wires are securely enclosed within the Casing Capping. The wires are firmly affixed to the wall, preventing any accidents
Wide Variety of Lockings
To accommodate the demands of the highly diverse Indian market, we have 7 different locking mechanisms available in a wide range of sizes.
Easy-to-use and Quick-to-install
Quick and easy installation makes it very user-friendly for electricians. Various innovative locking mechanisms are available to suit every level of expertise.
---
Trouble-Free Rewiring
The locking mechanisms that are easy to open and close makes the electrician's rewiring and maintenance tasks faster and easier.
Aesthetically-pleasing looks
A fine and superior surface finish not only ensures smooth pulling of wires, it also makes the product aesthetically pleasing – suitable for surface wiring.
Completely Shock-Proof
Corrosion-Free, Fire-Retardant, and Impact-Resistant
We constantly find ourselves a wall socket or wire short when we bring in new devices, appliances, or electronics. Sometimes, the electrician forgets to provide the appropriate number of sockets/jacks in your wall plates and the only solution left is to run a new wire from the source. But nobody likes to see even a single wire out-of-place or going from end-to-end on our beautiful walls.
With Pressfit Casing, you have an aesthetic alternative! Using our trunking solution, you can simply cover and protect the wires completely and paint over it to match your walls. You might not even notice the difference!
Today, businesses need their office spaces to be highly dynamic and flexible. These must be set up for individual cabins as well as for open spaces with shared desks.
With Pressfit Casing, it is extremely easy and quick to reconfigure offices to meet your organization's new electrical requirements. The ivory colour of the product matches the colour schemes of many offices interiors and blends in perfectly with the colour scheme. You can also always paint over the casing as per your requirements without affecting the contents inside.
PVC Casing is also the best way to protect the under-the-desk wiring in case someone unknowingly kicks it.
Design and Use
Pressfit Casing Capping is made in strict adherence to the IS: 14927 Part 2 standards laid down by the Bureau of Indian Standards (BIS). Pressfit is the leading manufacturer of PVC Casing Capping in India. This is simply because of our dedication to designing and creating reliable, high-quality products. Manufactured at its state-of-the-art production plants using the premium raw materials and chemicals sourced from a host of European countries, our products stand tall among the alternatives, while still being economically competitive. Pressfit Casing sets the industry-standard in the marketplace with its quality, availability, range, and price.